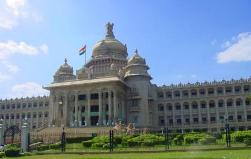 Bangalore , also known as Bengaluru is the capital of the Indian state of Karnataka. Bangalore is nicknamed the Garden City. Located on the Deccan Plateau in the south-eastern part of Karnataka, Bangalore is India's third most populous city. As of 2009, Bangalore was inducted in the list of global cities and ranked as a "Beta World City" alongside cities such as Dallas, Miami, Boston, Kuwait City, Lima, and Munich in the studies performed by the Globalization and World Cities Study Group and Network in 2008.
Today as a large city and growing metropolis, Bangalore is home to many of the most well-recognized colleges and research institutions in India. Numerous public sector heavy industries, software companies, aerospace, telecommunications, and defence organisations are located in the city. Bangalore is known as the Silicon Valley of India because of its position as the nation's leading IT exporter. A demographically diverse city, Bangalore is a major economic and cultural hub and one of the fastest growing major metropolis in India.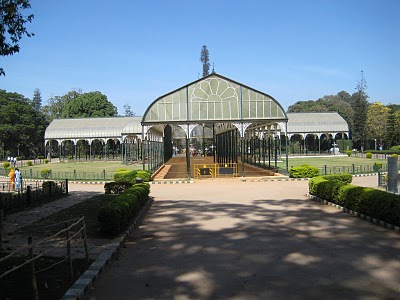 Bangalore lies in the southeast of the South Indian state of Karnataka. It is in the heart of the Mysore Plateau (a region of the larger Precambrian Deccan Plateau) at an average elevation of 920 m (3,018 ft). It is positioned at 12°58'N 77°34'E? / ?12.97°N 77.56°E? / 12.97; 77.56 and covers an area of 741 km² (286 mi²).The coolest month is January with an average low temperature of 15.1 °C and the hottest month is April with an average high temperature of 33.6 °C.
Tourist attractions around Bangalore


Parks
Lal Bagh: is a botanical garden, commissioned by the Hyder Ali in the year 1760. The 240-acre (0.97 km2) park is home to over 1000 species of flora and a Glass House. The park is known for its annual flower show. The garden surrounds one of the towers erected by the founder of Bangalore, Kempe Gowda I. The Lal Bagh Rock, dates back to 3000 million years, is another attraction.
Cubbon Park : is located in the heart of the city and spreads over 300 acres (1.2 km2). The part was created in the year 1884, by Major General Richard Sankey. The park is home to numerous trees and plants that span over 68 general and 96 species. The park is also known for its kids train.
Historical monuments
Tipu Sultan's Summer Palace Built in 1791,and located near K.R Market, is a beautiful two-storied ornate wooden structure with exquisitely carved pillars, arches and balconies. It now houses a museum that contains artifacts relating to the Hyder-Tipu regime.
Bangalore Palace: (1862) is located near Mekhri Circle and Cantonment Railway station and is built to look like a smaller replica of the Windsor Castle in England.
Mayo Hall : was designed in memory of the Lord Mayo and is regarded as one of the finest designs of British architecture.
Government buildings
Vidhana Soudha: is the seat of the state legislature of Karnataka. It is an imposing granite building, built in the year 1956 in the 'Neo-Dravidian' style, incorporates elements of Indo-Saracenic, Rajasthani Jharokha and Dravidian styles. Vidhana Soudha is the brainchild of Kengal Hanumanthaiah and built by chief engineer B.R. Manickam.
Attara Kacheri , (Karnataka High Court): Overlooking Vidhana Sabha is this red brick and stone building in the Greco-Roman style of architecture. It houses the High Court for the state of Karnataka.
Museums and Galleries
Bangalore Museum
Visvesvaraya Industrial and Technological Museum : The museum was instituted as part of the centenary celebrations of the engineer-statesman Sir M. Visvesvaraya (1861–1962).
Venkatappa Art Gallery
HAL Aerospace Museum: The Museum showcases the growth of the Indian aviation industry and HAL for six decades. The Museum is maintained by HAL (one of Asia's largest Aerospace companies). The museum houses displays of various aircraft and helicopters, Aircraft engine models, Flight simulators, a mock Air Traffic Control Tower and exhibit of Indian aviation history.
MITHILAsmita Art Gallery : This art gallery is dedicated to a folk art of India, Madhubani Painting and is managed by MITHILAsmita Foundation.
Places of worship
St Patrick's church: Built in 1844 this is one of the oldest churches in Bangalore and is situated on Residency Road.

Huge Shiva in old Airport Road : Built by owner of Kids Kemp-A retail outlet, is a huge Idol of Lord Shiva & Ganesha. It is completely made of plaster of paris. It is also a tourist attraction in recent times.

ISKCON Temple Bangalore: International Society for Krishna Consciousness Built in an ornate architectural style, the Krishna Temple is a blend of modern technology and spiritual harmony. The 7-acre (28,000 m2) temple is situated on west of chord road, Rajajinagar and finest fusion of modern and traditional elements of architecture.
Disclaimer: The content of this is taken from Wikipedia.